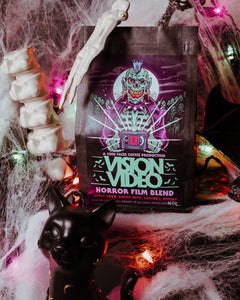 I am, invariably, a total creature of the night. Seriously. I stay AWAY from the sun. But sometimes it messes with my sleep rhythm and I have to go do human stuff during the day (gross).
Fortunately, we have partnered with 1,000 Faces Coffee from here in Athens to make the HORROR FILM BLEND!
It's a seasonal medium roast that features caramel, apple cider and spiced nuts that will absolutely give you the perfect pep in your zombie step for Halloween and onwards! 
This is the best quality coffee roaster from Athens, so I promise you'll love it. 
Featuring super rad art by Travis Knight!
This is an extremely limited run, so get you claws on a bag tonight!!!!